Language Learning Strategies | #clearthelist July 2017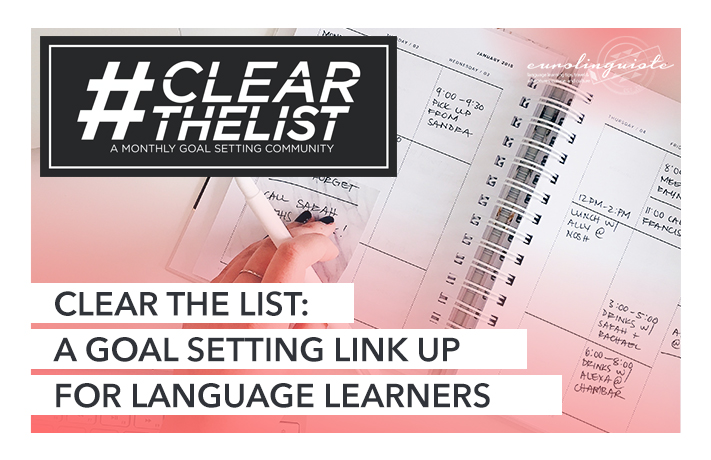 It's July and tomorrow is Independence Day, so to all of my American friends, I wish you a Happy 4th of July!
If you're new around these parts, #clearthelist is a linkup where we share our monthly goals, and by we, I mean myself and Lindsay of Lindsay Does Languages.
We'd absolutely love for you to a part of our community. You can join us by adding a link to your own goal post below.
So let's get started, sharing our goals and motivating one another to #clearthelist!
Please feel free to tag your posts or photos with either #clearthelist on your favorite social media channels!
Last Month's Highlights on Instagram
Last Month's Blog Highlights
Travel
None this month – I focused on language learning.
Language Learning
5 Things You Can Do When You Don't Have Time to Learn a Language // A post to help you find a little bit more time to fit language study into your routine.
How to Get Stuff Done When You Study a Language // Tips for having more productive language studies.
100+ Ways to Make Language Learning a Part of Your Day // An epic post that sorts everything by skill – reading, writing, listening and speaking.
Last Month's Goals
Continue filling the gaps in my Mandarin vocabulary I've noticed since Little Linguist's arrival. // I worked on this a tiny, little bit. It counts, right?
Read one more language related book. // I read Lingo by Gaston Dorren and it was really good. Highly recommended!
Transcribe the dialogues from Zelda Ocarina of Time in Mandarin Chinese that I currently have saved. // I did! Feeling so good getting back on track with everything.
Get ahead reading my language reading challenge books. // Yes! I'm finally ahead again and I hope to keep it that way.
Keep working through my YouTube Queue. // Yes. I realized that most of the videos in my queue weren't things that I cared about watching. They were things I cared about listening to. When I realized this, I was able to set my queue to play automatically and listen to them in my car. Don't worry – my phone was in my center console, so I wasn't distracted! Realizing this made a huge difference for me.
Read something in Chinese // I started up using LingQ again. I had to take a break while I was finishing up Language Learning Accelerator, but I'm back at reading the Hunger Games in Chinese.
Keep adding words from Chinese readings into my Memrise Chinese deck AND THEN STUDY THEM. // I started studying these at the very end of the month, so I suppose it counts.
Have something I'm reading that's in French or Spanish. // Yes! El Nombre del Viento for the win. Seriously, LingQ is my favorite tool ever.
Keep working through my language podcasts. // I actually finished ALL of the lessons I had in my queue. This probably means I drive way too much, but hey. I can't complain if it means I get to study languages uninterrupted, right?
This Month's Goals
Continue filling the gaps in my Mandarin vocabulary I've noticed since Little Linguist's arrival. // Like I keep saying, this will be a never ending project. And it's wonderful.
Read the next Language Reading Challenge book on my list. // If you haven't already, you can join us on Goodreads!
Keep working through my YouTube Queue. // I still have a long way to go.
Read something in Chinese, French, and/or Spanish. // At the level I'm at for these three languages, this is one of the best ways I can continue to improve them.
Study my dang Chinese Memrise deck! Sheesh. // Even though I started this at the end of June, it wasn't as much as I wanted. I seriously need to get on this.
Finish distilling my old Russian notes. // I decided to start over with Russian, so I'm working through all of my old notes to start.
Record my first video(s) in Japanese. // I finally started to learn this beautiful language and I'm excited about it. Plus, Little Linguist likes me speaking it, so that's encouraging.
Little Linguist really likes the sound of Japanese. I think it's a sign…

— Eurolinguiste (@eurolinguistesk) 18 juin 2017
Resources I Used This Month
A quick recap on the materials I am using.
What I Am Using to Learn Chinese
What I'm Using to Brush Up/Improve My French:
What I am Using to Learn Russian:
What I am Using to Learn Korean:
What I am Using to Learn Spanish:
What I'm Using to Learn Japanese:
What I'm Using for Little Linguist
Resources That Aren't Language Specific
The Biggest Lesson I Am Taking Away from This Month
I seriously love Russian.
I do. I had a really tough time with it the first go (same as Korean), but I just couldn't stay away from it. Every time I hear Russian, I marvel at how beautiful it sounds and it just stirs up this incredible desire to sit down and learn it.
I psyched myself out a bit too much with the grammar the last time, so I want to approach it a little differently this time. Hopefully my teachers will work with me (is it just me or do Russian tutors all really seem to want to focus on grammar?). I hope to persevere this time and finally learn this language that I so adore.
Don't forget that I would love to hear all about your goals for this month! Please join us by adding your post to the linkup below!
Clear The List Linkup Rules:
1. Share your goal post whether it includes your aspirations for the month or year. Submissions unrelated to the theme or links to your homepage will be deleted.
2. Link back to this post. You can use our button if you wish.
3. Follow the hosts: Lindsay from Lindsay Does Languages, Shannon from Eurolinguiste.
4. THIS IS THE MOST IMPORTANT RULE: Please visit the site of the person who linked up immediately before you and leave them an encouraging comment! By hosting this linkup, we're hoping to create a positive community where we can all share our goals. If you do not do this, you will be removed from the linkup.
5. Share on social media using #ClearTheList
An InLinkz Link-up
Shannon Kennedy
My name is Shannon Kennedy and I'm the language lover, traveler, and foodie behind Eurolinguiste. I'm also the Resident Polyglot at Drops and the Head Coach of the Fluent in 3 Months Challenge.