Clear the List | Monthly Language Learning Strategies Update | April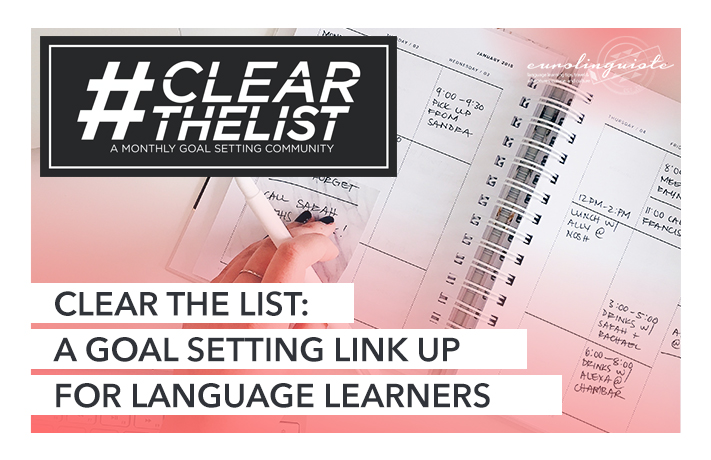 It's April I'm getting ready for the launch of my new ebook and ecourse that will be released over at Fluent in 3 Months on language learning for introverts, and I am also excited to share some of the resources and materials I'm working with to continue learning Korean as a part of the challenge I'm doing with Lindsay Dow.
For those of you new to #clearthelist, I would like to welcome you to the linkup where we share our monthly goals! And for those of you who are returning – welcome back!
Just as a quick recap, I cohost #clearthelist with a lovely blogger, Lindsay of Lindsay Does Languages. You should definitely take a minute to head over and check out her site if you haven't already!
We'd absolutely love for you to a part of our community. You can join us by adding a link to your own goal post below.
So let's get started, sharing our goals and motivating one another to #clearthelist!
Please feel free to tag your posts or photos with either #clearthelist on your favorite social media channels!
Last Month's Highlights on Instagram
Last Month's Blog Highlights
Travel
Ladurée in Paris, France // In this post, I share my experience trying out macarons from Ladurée on my most recent visit to Paris.
Maison Georges Larnicol // In addition to tasting macarons in Paris, I've also had the pleasure of trying kouignettes, a delicious, buttery treat from Maison Georges Larnicol.
Language Learning
15 Free Language Related Activities You Can Do This Weekend // In this post I shared 15 ways you can get some extra language learning in for free.
French Tenses for Beginners: Past, Present and Future // I collaborated with Kerstin Hammes Cable to celebrate Grammar <3 Week with this post of French tenses.
100+ Useful Conversational Words & Phrases in Korean // As a part of the Korean Language Challenge with Lindsay Dow, I created this free PDF packed full of useful phrases in Korean.
My Maximize Your Month Language Learning Strategies & Goals
Last Month's Goals
Continue to do at least one lesson in my New Russian Penguin Course book per week. // I managed to keep up with this task this past month and it's really helping me wrap my head around Russian grammar.
Start to work through some of the Russian language videos I have saved on Youtube. // I worked through a few of the Russian videos I saved on YouTube, but not quite as many as I would have liked. Either way, I did get to some of them, so I'll still count this one as a win.
Work through at least two Assimil Chinese lessons per week. // Yup!
Finish watching the Travel in Chinese series on CCTV. // I finished the Travel in Chinese Series and started a new series on CCTV. Several of the videos won't load, unfortunately, but I've still had the opportunity to watch the majority of them.
Achieve my next Korean challenge and finally film that video of myself reading in Korean even if I don't understand what I'm reading. // I filmed a few short videos on my Instagram account this month and in two I'm reading words/a script I prepared. It took me a while to get this one, but I finally got it checked off!
Read the next book for the reading challenge. // This month it's to read a travelogue or travel-related book tied to a country that speaks your target language. I am not sure at all about what I'll read for this one. I guess I need to decide pretty quick!
Read more of my language related books. // I started to work through a few of these books and I plan on sharing more about them as part of the Language Learning Reading Challenge later this month.
This Month's Goals
Continue to do at least one lesson in my New Russian Penguin Course book per week. // Next month's Language Learning Reading Challenge (the month of May) is to finish up a language course book that you've been working through or that you start working on. I'd like to finish this book as a part of that challenge.
Keep working through some of the Russian language videos I have saved on Youtube. // I'd like to get through a few more of these this month.
Work through at least two Assimil Chinese lessons per week. // Again, I'd like to keep up with this.
Read a few more of my language related books. // I really enjoyed the books that I read last month so I look forward to keeping up with this goal this month.
Start to work on building my vocabularies in Russian and Korean. // I think that this is my weakest point right now in both of these languages, and so, I'd like to correct this. Plus, I'm always for another excuse for spending more time on Memrise.
My Language Learning Strategies and Updates
This month I've worked hard to increase the amount of time I spend listening to all of the languages I know/am learning to keep them active and to get a sense of the flow and sound of the languages. I've spent a lot of time in the car lately commuting to and from work/concerts, so I've had a lot of time to listen to the 101 language series from Innovative Language, my Pimsleur lessons, and a variety of foreign language podcasts.
Resources I Used This Month
A quick recap on the materials I am using.
What I Am Using to Learn Chinese
What I'm Using to Brush Up/Improve My French:
What I am Using to Learn Russian:
What I am Using to Learn Korean:
The Biggest Lesson I Am Taking Away from This Month
Not all language learning involves studying the language (grammar/vocabulary) itself. This is actually something that I've known for quite a while, but it's always great to have a bit of a reminder. It's so easy to get caught up in learning tons of new words and grammar rules and forget that there's so much more to learning a language well than that.
So get out there, get some actual practice in speaking with other speakers of your target language, read about the language you're learning (or the culture it's tied to) and experience it. Eat Korean food if you're learning Korean, watch a Kung Fu movie if you're learning Chinese, learn about viticulture or wine tasting if you're learning French or Italian… These are all just quick examples, but the point is to just do something that gets you involved in the language beyond grammar books and vocabulary flashcards.
Find things that interest you and then do them in your target language. Learn about something you find interesting in the language you're studying rather than in your native language. Just get involved with the language and experience it. Go beyond merely "learning" it.
Don't forget that I would love to hear all about your goals for this month! Please join us by adding your post to the linkup below!
An InLinkz Link-up
Shannon Kennedy
My name is Shannon Kennedy and I'm the language lover, traveler, and foodie behind Eurolinguiste. I'm also the Resident Polyglot at Drops and the Head Coach of the Fluent in 3 Months Challenge.