Clear The List | Monthly Language Learning Strategies Update | April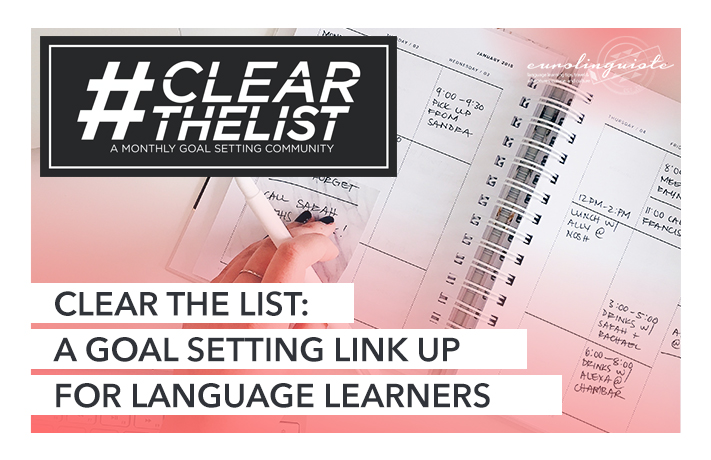 March was an incredible month. Not only did my most recent course with Fluent in 3 Months open, but Lindsay, Kerstin and I hosted the very first ever Women in Language event. And it was amazing.
April has an entirely new set of milestones in store. A big one being the end of my second Fi3M Challenge and my intensive Japanese study. 
What's next?
Good question… Keep an eye out for an announcement soon!
On to #clearthelist
If you're new around these parts, #clearthelist is a linkup where we share our monthly goals, and by we, I mean myself, and Lindsay of Lindsay Does Languages.
We'd absolutely love for you to a part of our community. You can join us by adding a link to your own goal post below.
So let's get started, sharing our goals and motivating one another to #clearthelist!
Please feel free to tag your posts or photos with either #clearthelist on your favorite social media channels!
Last Month's Highlights on Instagram
Last Month's Blog Highlights
Travel
Doors & Doorways in Singapore // In this post, I continue sharing my adoration of beautiful doors around the world.
The Hoover Dam // After a recent performance in Las Vegas, I decided to make a short day trip to the Hoover Dam.
Language Learning
100+ Useful Conversational Words & Phrases in Japanese
All Documented Language Learning Projects // Recently, I realized that each of my language projects are scattered across Eurolinguiste, so I decided to gather them all in one place. As I add new projects, I'll also add to this document.
Last Month's Goals
Continue filling the gaps in my Mandarin vocabulary I've noticed since Little Linguist's arrival. // Yes! Lots of new vocabulary from my tutor and consistent study of my flashcards.
Read the next Language Reading Challenge book on my list. // Yes! I actually read, not a book per se, but on LingQ in Japanese. I finished two courses.
Keep working through my YouTube Queue. // Slow but steady wins the race.
Meet my daily goal on LingQ for Japanese. // Most days.
Fi3M Challenge Month 3 // Yes! Now, all that's left is my day 90 video.
This Month's Goals
Continue filling the gaps in my Mandarin vocabulary I've noticed since Little Linguist's arrival. // A permanent item on my monthly list.
Read the next Language Reading Challenge book on my list. // In April, we're reading a book written by a language blogger.
Keep working through my YouTube Queue. // But this time, my aim is to get through as many lessons as possible. It'll be a great way to brush up my Chinese.
Continue to meet my daily goal on LingQ for Japanese. // And if I have the energy, get back into some of my other languages.s
Fi3M Challenge Day 90 Video // I'll need to plan who I record this with and do it. Even though I have made a lot of progress, I'm still very nervous!
Resources I Used This Month
A quick recap on the materials I am using.
What I Am Using to Learn Chinese
What I'm Using to Brush Up/Improve My French:
Immersion (we speak franglais at home)
Reading books written by French authors
Listening to French radio/podcasts
What I am Using to Learn Russian:
What I am Using to Learn Korean:
I am on a break from Korean
What I am Using to Learn Spanish:
What I'm Using to Learn Japanese:
What I'm Using for Little Linguist
Finding Dory, Cars and other films/tv shows
Day-to-day interaction
Resources That Aren't Language Specific
The Biggest Lesson I Am Taking Away from This Month
That I just really love languages.
I'm sure I've had this as a takeaway before, but every once in a while, I just get this somewhat overwhelming feeling – a good feeling – towards languages.
I love everything about them.
I love the process of learning them. I love the successes when they happen. I love using them. I love the people and the community that I've met because of them. I love the tools I get to use to learn them. I love the opportunities that they've given me.
There's just so much about them that at times, I just have to pause and think – wow.
Sometimes, I get frustrated that it took me so long to realize languages were my thing. If I had figured it out earlier, I would be so much farther ahead.
But then, I realize that I'm lucky I figured it out at all. The circumstances that led to that realization were really by chance. So for that, I'm grateful.
I'm also grateful for you for coming here, reading my posts, and sharing my love for languages. It's really awesome knowing you all.
Don't forget that I would love to hear all about your goals for this month! Please join us by adding your post to the linkup below!
Clear The List Linkup Rules:
1. Share your goal post whether it includes your aspirations for the month or year. Submissions unrelated to the theme or links to your homepage will be deleted.
2. Link back to this post. You can use our button if you wish.
3. Follow the hosts: Lindsay from Lindsay Does Languages and Shannon from Eurolinguiste.
4. THIS IS THE MOST IMPORTANT RULE: Please visit the site of the person who linked up immediately before you and leave them an encouraging comment! By hosting this linkup, we're hoping to create a positive community where we can all share our goals. If you do not do this, you will be removed from the linkup.
5. Share on social media using #ClearTheList
An InLinkz Link-up
Shannon Kennedy
My name is Shannon Kennedy and I'm the language lover, traveler, and foodie behind Eurolinguiste. I'm also the Resident Polyglot at Drops and the Head Coach of the Fluent in 3 Months Challenge.