Clear the List | Monthly Language Learning Strategies | March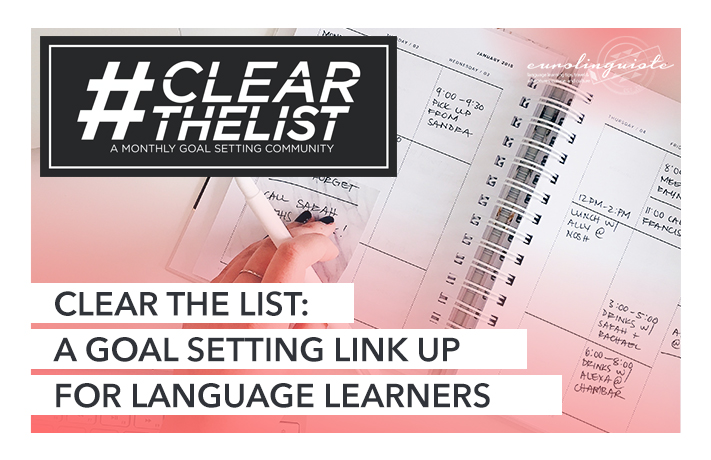 This month, there is something happening that I'm so excited about. It's… Women in Language.
I'm over the moon about it because:
It's the first time I've ever organized a language event and the experience has been amazing.
I've been able to chat and plan with two of my language besties (Lindsay Williams and Kerstin Cable) the last few months.
It showcases more than 25 talented and inspiring female speakers.
I get to spend an entire four days in March nerding out over language with some amazing people.
And… you're invited to join us.
If you haven't already picked up a ticket, you can check it out here. Plus, 10% of all proceeds go to Kiva, so you'll support entrepreneurs across the globe!
And there was one more item for me this month…
My new course with Fluent in 3 Months, The Courage to Speak, opened. I'm excited to work with a new group of students!
On to #clearthelist
If you're new around these parts, #clearthelist is a linkup where we share our monthly goals, and by we, I mean myself, and Lindsay of Lindsay Does Languages.
We'd absolutely love for you to a part of our community. You can join us by adding a link to your own goal post below.
So let's get started, sharing our goals and motivating one another to #clearthelist!
Please feel free to tag your posts or photos with either #clearthelist on your favorite social media channels!
Last Month's Highlights on Instagram
Last Month's Blog Highlights
Travel
14 Things to Do at the Marina Bay Sands in Singapore // While in Singapore, I stayed at the Marina Bay Sands to experience as much as the hotel had to offer. And boy there was a lot. Here are just 14 of the things you can do.
Gardens by the Bay // A beautiful area to explore in Singapore with two enclosed gardens and a skywalk.
Language Learning
The Ultimate Guide to Japanese Writing Systems // What I've learned about hiragana, katakana and kanji + a free worksheet to help you master the Japanese writing systems.
Doing More in Your Studies with Less // Ways that I've minimized my language learning routines to get better results.
Last Month's Goals
Continue filling the gaps in my Mandarin vocabulary I've noticed since Little Linguist's arrival. // Yes! I learned the words for almost every vehicle I could possibly think of because it's a hot item on Little Linguist's list. Now I need to work on sea creatures.
Read the next Language Reading Challenge book on my list. // Yes, February book read with review coming soon!
Keep working through my YouTube Queue. // I had another month where I added more than I watched, but it's still a yes because I did watch a few videos.
Read something in Chinese, French, and/or Spanish and Russian. // Yeah, no. But I did do some Japanese reading on LingQ, so does that count?
Finish distilling my Japanese notes. // I used my plane flights to and from Texas to get this done!
Fi3M Challenge Month 2 // January was my first month of the Fi3M Challenge with Japanese. I still have a long way to go to get to a 15-minute conversation, so I want to focus on this more in the coming month.
This Month's Goals
Continue filling the gaps in my Mandarin vocabulary I've noticed since Little Linguist's arrival. // A permanent item on my monthly list.
Read the next Language Reading Challenge book on my list. // In March, we're reading a translation (something translated into your target language). I'm still not anywhere near being able to read in Japanese, so I'll probably choose something in Chinese.
Keep working through my YouTube Queue. // I still have way too many amazing videos on my list. Like… 800.
Meet my daily goal on LingQ for Japanese. // I'll get back to reading in my other languages after this Challenge is over. Speaking of which…
Fi3M Challenge Month 3 // I'm starting to get into challenging territory with Japanese and if I weren't doing an intensive language project, I'd probably take a brief break to come back to it with fresh eyes. But, with the Challenge this isn't an option, so it will be interesting to see how pushing through works for me.
Resources I Used This Month
A quick recap on the materials I am using.
What I Am Using to Learn Chinese
What I'm Using to Brush Up/Improve My French:
Immersion (we speak franglais at home)
Reading books written by French authors
Listening to French radio/podcasts
What I am Using to Learn Russian:
What I am Using to Learn Korean:
I am on a break from Korean
What I am Using to Learn Spanish:
What I'm Using to Learn Japanese:
What I'm Using for Little Linguist
Finding Dory, Cars and other films/tv shows
Day-to-day interaction
Resources That Aren't Language Specific
The Biggest Lesson I Am Taking Away from This Month
Resistance can be a positive thing. As I get farther into my Japanese studies, I'm experiencing some resistance and as an exercise, I'm reacting to it differently than I normally would. I haven't gotten to the other end of it, so I can't say what my results will be. But already, I feel myself overcoming some of the hurdles I experienced at this same stage with Korean. And because of this, I feel I might be ready to go back to Korean in the near future.
You never stop learning about yourself.
Don't forget that I would love to hear all about your goals for this month! Please join us by adding your post to the linkup below!
Clear The List Linkup Rules:
1. Share your goal post whether it includes your aspirations for the month or year. Submissions unrelated to the theme or links to your homepage will be deleted.
2. Link back to this post. You can use our button if you wish.
3. Follow the hosts: Lindsay from Lindsay Does Languages and Shannon from Eurolinguiste.
4. THIS IS THE MOST IMPORTANT RULE: Please visit the site of the person who linked up immediately before you and leave them an encouraging comment! By hosting this linkup, we're hoping to create a positive community where we can all share our goals. If you do not do this, you will be removed from the linkup.
5. Share on social media using #ClearTheList
An InLinkz Link-up
Shannon Kennedy
My name is Shannon Kennedy and I'm the language lover, traveler, and foodie behind Eurolinguiste. I'm also the Resident Polyglot at Drops and the Head Coach of the Fluent in 3 Months Challenge.