Tolido's | A Delicious Breakfast Spot in Singapore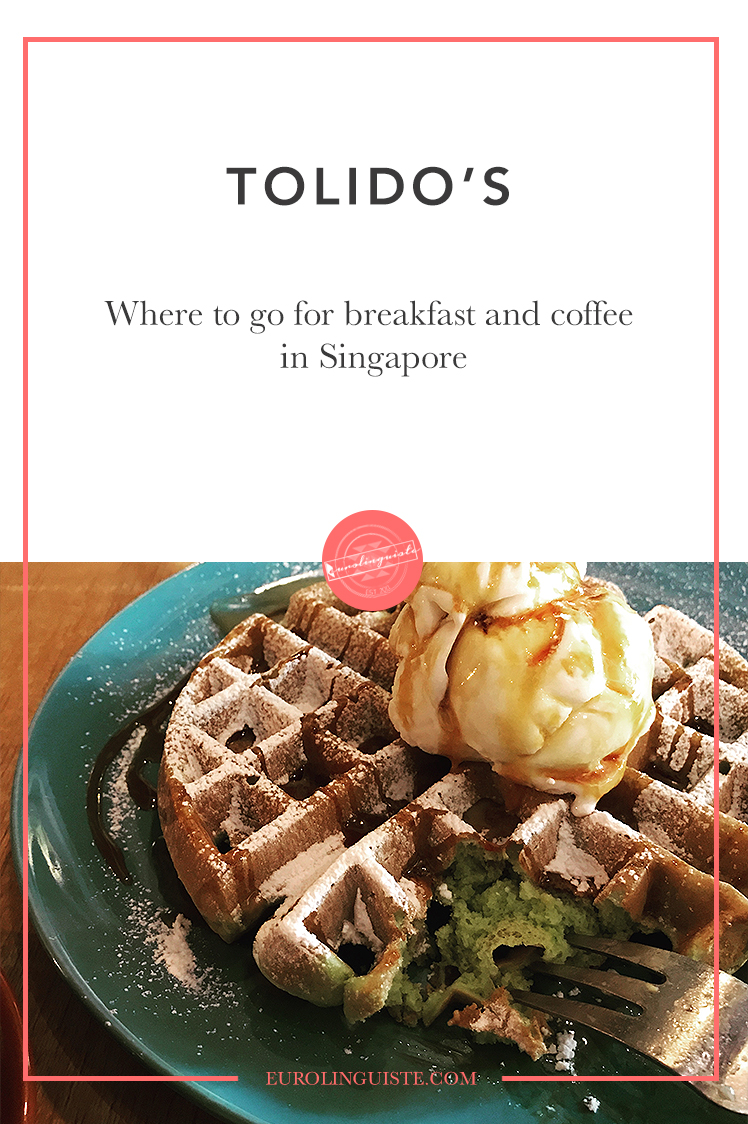 When M and I were in Malaysia a few year's back, we discovered pandan. Pandan, for those of you unfamiliar with it, is a plant that is used in South Asian cuisine. It's a popular ingredient in sweets and savory items alike, and it's incredibly delicious.
In the US, pandan items are hard to find – though the 99 Ranch Market near us often carries pandan cake in its bakery. Needless to say, after arriving in Singapore, I immediately went to work, searching for places that served foods made with pandan.
In this search, I came across Tolido's.
Tolido's is one of those places where you order way too much food because there are so many different things you want to try on the menu. I went in with a plan – I would get the pandan pancakes that I had seen online and be content. But after arriving at the café and seeing their menu, my plans changed. Truffle eggs? Pandan waffles with coconut ice cream?
My order changed, and I was not disappointed.
Tolido's is known for the coffee and latte art (the owner, Douglas Tan won third place in a Singapore Latte Art competition – I had no idea there was such a thing). Though their coffee menu is their hallmark, I had to admit that I was a little disappointed. By the time my latte made it to me, it was cold. I definitely prefer hot coffee, so for me, this wasn't the highlight of our experience at Tolido's.
The food, on the other hand, certainly was.
My friend and I ordered three different plates and even shared, we didn't finish everything.
We enjoyed the:
* Pandan waffle with coconut ice cream
* Truffle scrambled eggs (made with truffle oil and mozzarella), with roasted potatoes, salad, and brioche toast
* Banana almond french toast
All of the food was incredible. The coffee was average. That said, I still highly recommend stopping here if you ever find yourself in Singapore.
Tolido's Espresso Nook
462 Crawford Lane #01-63 Singapore 190462 (Near Bugis & Lavender MRT stations)
Phone: +65 6648 0178
Opening Hours:
9:30am -7:00pm (Tues-Thurs)
9:30am – 10:00pm (Fri-Sat)
9:00am – 6:30pm (Sun)
What about you?
What incredible food spots have you stumbled across in your travels? I'd love to hear about them in the comments below!
Shannon Kennedy
My name is Shannon Kennedy and I'm the language lover, traveler, and foodie behind Eurolinguiste. I'm also the Resident Polyglot at Drops and the Head Coach of the Fluent in 3 Months Challenge.