Organized Packing with LCI Brands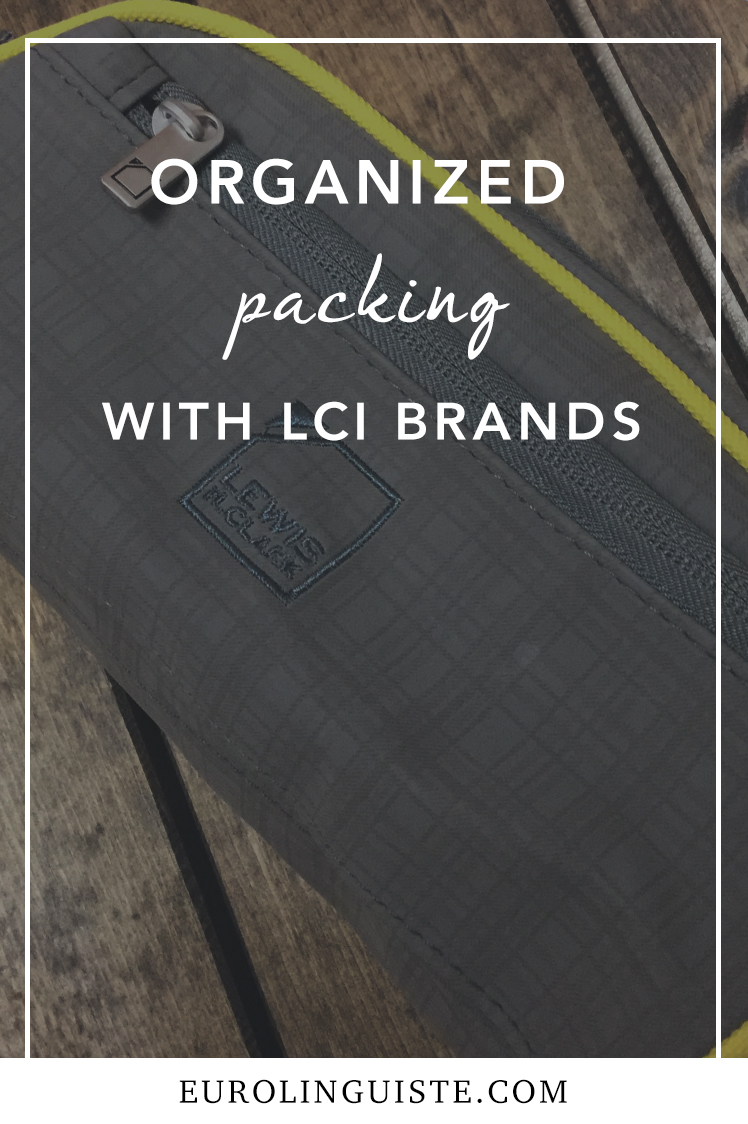 As a musician, I have a lot of little cables, adaptors, devices, make-up, and accessories that I carry around with me whenever I travel. I also have clothes and shoes that need to be neatly stored so that when I arrive, they're in performance condition.
In the past, I just tucked them into whichever pockets I could in my backpack, hoping they'd be protected, only to need to dig through my entire bag to find each item I needed upon arriving.
It was a pain.
I'm always looking for better ways to organize my adventures, and since my discovery of LCI Brands, I've been able to do just that.
Meet LCI Brands
I've mentioned LCI Brands in an earlier post, but I'm excited to share a bit more about them.
Started in 1971 by Wolf Zeitlin, LCI Brands gained traction with the invention of a luggage caddy. They've since pioneered a number of convenient travel items.
Organizing My Travels
The items that I used on my recent trip to Las Vegas, Nevada for a performance were the Deluxe Travel Document Organizer, the Plaid Cosmetic Organizer, the Cosmetic Case, the Plaid Toiletry Kit, and the Large Plaid Packing Cube.
But as before, with the exception of a few items, I didn't use these in the way you might expect.
Deluxe Travel Document Organizer
This document organizer functions great for it's intended purpose, but I loved the way that I used it even more. Most of the jewelry organizers that I've had in the past were bulky considering their contents. Either that, or they didn't keep my necklaces and bracelets from getting tangled.
This organizer, with it's compact and flat shape offered me the perfect solution considering the jewelry I brought along on this trip.
It has multiple compartments which are intended for IDs, a Passport, travel documents, credit cards, or money, but I was able to use them to store my bracelets, necklace, and earrings.
Specs: RFID Blocking, 9.125 in x 5.5 in, Interior zip pocket and pen sleeve, Outer open pocket for boarding pass or phone, Main compartment zips.
Plaid Cosmetic Case
I used this to store my tights, socks and undergarments. It's square shape allowed me to store more than enough of these items for my trip without having to worry about them taking up too much space stored elsewhere or getting lost in my bag.
Specs: 7.5 in x 4.5 in x 4.5 in
Cosmetic Organizer
This is one of my favourite Lewis N' Clark products, and I'll be honest, it's the second one of these that I have. I used one to store Little Linguist's toiletries for his stay with my parents and this one to store my own. I love how practical it is. You can use both sides, one or the other, and I love that one side is lined with plastic so you don't have to worry about anything leaking into the rest of your bag.
Specs: 7.5 in x 8.5 in x 3.5 in, 2 zippered compartments (one mesh and one TPU) that can be detached or combined with magnetic enclosures.
Plaid Toiletry Kit
This is another item that I didn't use in the traditional sense. Instead, I used it to store the accessories I needed to perform including 9v batteries, a couple of small cables, my iPod and it's charger. It was convenient for me to grab and bring with me to the performance venue and compact enough that I could hide it in my saxophone case when it was empty.
Specs: 9 in x 4 in x 4 in, Classic design with two pockets.
Large Packing Cube
I was honestly impressed by how much I was able to fit into this packing cube. I stored two dresses, two pairs of pants, a jacket and sweater. I loved that I didn't have to worry about them getting wrinkled or damaged in my backpack because the cube stored them separately from the other items in my bag.
My only complaint was that the mesh doesn't support a lot of wear and tear. A small area of it ripped in transport. It didn't affect my ability to use the bag – it was really small – but I was a bit disappointed that it didn't make it through my first trip undamaged.
Specs: 14.5 in x 12 in x 3 in, Keeps items neat and helps minimize wrinkles, Mesh panel for breathability, Convenient carry handle.
Overall, I love all of my LCI Brands items. They make packing and travel easier. And because I love staying organized, more fun.
What about you?
How do you keep your travels organized? Any favourite products or techniques?
I'd love to hear from you in the comments.
Shannon Kennedy
My name is Shannon Kennedy and I'm the language lover, traveler, and foodie behind Eurolinguiste. I'm also the Resident Polyglot at Drops and the Head Coach of the Fluent in 3 Months Challenge.