Clear the List: October Language Learning Strategies & Update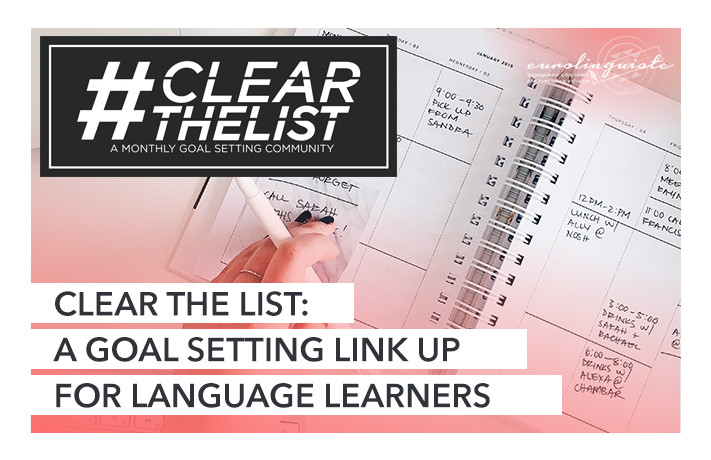 I've decided it's time to do an update on where I'm at in the language learning process to help keep accountable. I used to try to do these once a month on my old WordPress blog, but I have yet to do one here at Eurolinguiste, so I think it's probably a wee bit overdue.
As many of you might know, my goal is to fluently speak 8 languages. Thus far, my studies include (1) English, (2) French, (3) German, (4) Italian, (5) Croatian, and (6) my upcoming 2014 language. I've experimented with learning a few other languages, but for the time being they are not included.
My Language Learning Strategies & Update
English – I live in California so I am immersed in the English language the moment I step outside my door, not to mention television and movies at home. I write in English, I work in English and it is one of my first languages, so I'm not worried about it.
French – French is the language I speak at home, so it's also not something I actively study.
Italian – Italian was my 2012 language, but this last year I've kind of let it fall to the wayside. My friend and I became increasingly busy as the year progressed, so we spoke less and less frequently, leaving me a bit out of practice. I recently began to pursue Italian learning again, and like when I first started studying the language, I was showing little actual advancement because most of my time was spent refreshing things I've already learned. Italian is, by far, the language I use the least and so I've lost almost everything I learned whilst doing my certifications in Europe. I went through this same thing with German, so I know I will get through it quickly, but is discouraging nonetheless. In other news, I recently attended an Italian festival hosted by our county so I had the opportunity to practice a bit there.
At this point, as far as Italian, my focus is on increasing my vocabulary rather than on actual grammar development. I'm increasing my vocabulary by about 20 to 30 words a day, so I am quite happy with the progress there. I have been using vocabulary workbooks to do this.
Croatian – I study Croatian for about thirty minutes to an hour each day. I do this by listening to podcasts and completing Pimsleur lessons during my commute to work. I also have an old Croatian grammar book that I've been using to supplement my learning as well as to make sure I am able to read/write in the language.
German – At this point I am focused on maintaining the German that I know but still doing a small amount of work on increasing my vocabulary and improving my grammar.
Romanian – I learn a few words each day. I have not learned any grammar so I cannot yet construct sentences. I don't really dedicate time to actually learning Romanian so I don't really expect to learn more than a few words at this point. I'm considering giving this language up as it is not one of my core 8 languages I hope to study.
My 2014 Language – I've been doing a bit of prep work to get a jump start on next year's work. I have so far completed two Pimsleur lessons for this language and have been researching learning materials for the language. I'll announce this language soon.
A LITTLE BIT ABOUT MY CURRENT LEARNING METHODS:
I spend my morning and afternoon commutes listening to native speakers' podcasts and completing Pimsleur lessons. On weekends and after arriving at home, I spend around one hour completing book study (reading/writing), although I'm not super consistent with this one. I also currently do a language exchange with a native Italian speaker once a week. I'd like to begin doing this with Croatian.
MY GOAL:
I've given myself until the end of the year to focus on Croatian, but once the year is over I'm going to switch my focus to a more practical language. My last three languages have been somewhat self indulgent – including German and Italian – since the only place I can really use either of those languages is in Germany and Italy. So, for 2013 I'm going to switch gears a bit and learn a language that can be more widely used. You can read more about my languages and progress here.
What are your language learning goals for the next month? I'd love to hear about them in the comments!
Shannon Kennedy
My name is Shannon Kennedy and I'm the language lover, traveler, and foodie behind Eurolinguiste. I'm also the Resident Polyglot at Drops and the Head Coach of the Fluent in 3 Months Challenge.