Learn a Language Online with Lingoda | Review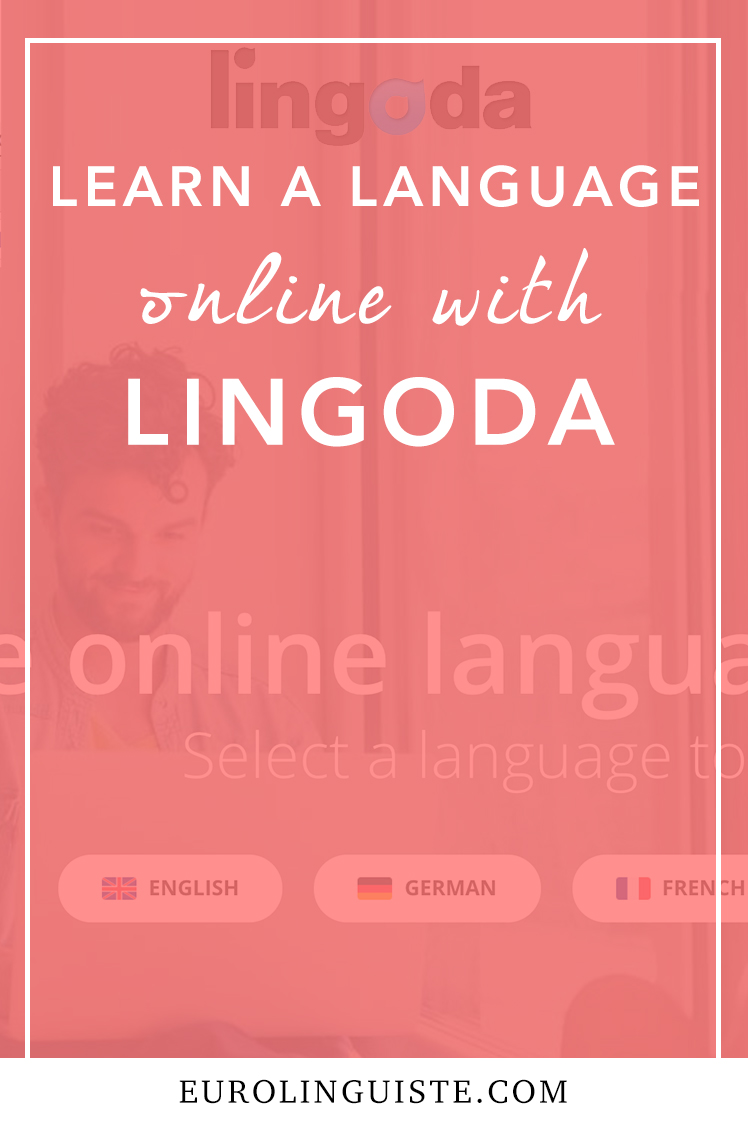 When I first started studying languages on my own, I took the term "independent study" a little too literally. I thought that I was capable of learning a new language on my own, with my head buried in textbooks and study sessions occupied with piles of flashcards.
But I quickly learned that going about language study this way is not an effective strategy.
To really learn a language well, even if you're going at it on your own, you need to speak it. And while language exchange partners are incredibly helpful in this respect, you don't quite get the attention you sometimes need. This is why I feel that one of the best ways to really make quick progress in your target language is to study one-on-one with an instructor.
Where to Find Language Teachers Online
There are quite a few places to find language teachers online – I'm sure you've heard of a few of them – but there's one that I recently discovered that I'm excited to introduce to you.
Lingoda is an online language school that teaches Spanish, French, English and German with lessons based on the CEFR levels (A1-C2). They offer lessons 24 hours a day with native speaking teachers both as individual or as group lessons. They also have the option of lessons through either Skype or their virtual classroom.
Founded in Germany, Lingoda is more than just another virtual lesson platform. In addition to their pre-designed CEFR course structure, they also offer personalized lessons that align with your level in the language, your goals, and your personal interests.
My Experience with Lingoda
In order to write this review, I was given five lesson credits that I could use to book either private or group sessions. I scheduled two group lessons and three private lessons at the A1.1, A1.2, and A2.1 levels. I studied Spanish so that I could work through their curriculum in a language that I had very little previous experience in and I was elated with the results.
By my second lesson my teacher spoke to me almost entirely in Spanish and on more than one occasion we finished the lesson material with time to spare before the hour was up (something my advisor told me very rarely happened). I was then able to use the extra 10-15 minutes to work on additional material I had questions about and make quite a bit of progress with the language.
Both of my instructors were from Venezuela. I would have liked to have worked with a teacher from another country, but I won't complain because I was really happy with both my teachers. So much so, in fact, that I requested that most my lessons continue with my first instructor.
Because I bounced around the different levels, I didn't make significant progress towards any one certificate level. It would probably have been best if I had taken advantage of their assessment option so that I was placed at the right level from the start, but that was my fault because I really thought I needed to start from the very bottom.
For both of my group classes I was the only student, this was both positive and negative. It was positive because I got the attention of a private lesson for the "price" of a group lesson. It was negative because I missed out on the experience of working and interacting with other learners.
Things That I Liked About Lingoda
One of the features that most impressed me with Lingoda is that each student is assigned a personal advisor. My advisor worked with me to ensure that I understood how Lingoda works and that I was getting the language instruction that I needed. She was there whenever I had a question and processed my requests quickly. I was very pleased with the response I received from my advisor. Another note about Lingoda's advisors is that because they work with you, they chat with your teachers (who may change) in order to let you know what you can work on so that you have something to work on between lessons. I thought that was great, but it didn't happen for every lesson, so I wish this was a little more consistent.
The option of obtaining European Framework certificates is another reason I prefer Lingoda over some of the other language tutoring sites or online language schools out there. The CEFR certificates are fantastic for those who need them for university applications, or visa or job requirements. Lingoda themselves actually went through a certification process in order to offer students these certificates and its an excellent feature, even for those who are just curious as to what their level might be.
I was extremely impressed with the quality of the teachers that I worked with on Lingoda. I didn't realize how accustomed I had gotten to other platforms where I would, on average, have to try out anywhere from 3-8 tutors per language in order to find someone that I clicked with. With Lingoda, I worked with two different instructors and both were excellent. I think that the fact Lingoda's instructors are certified teachers plays a huge part in the lesson quality you receive.
If you didn't have a good lesson experience, Lingoda will refund you as long as you make the request within 7 days. This is part of the reason they have advisors and an excellent option for those times when you end up with a teacher who just really wasn't a good fit. You also have the option of blocking instructors by giving them a one star rating.
You can download the lesson worksheets in advance to make sure that the content is a good fit for you. If you aren't aiming for earning the CEFR certificates and you aren't sure what you'd like to work on as a customized private lesson, you can download the course outlines to check if the predesigned lessons are what you'd like to learn.
Suggested Improvements
The lesson booking tool was pretty confusing to use, especially when you are looking to take a particular class. I still wouldn't be able to explain how to use it to you, but I was able to hack my way through it enough that I could schedule my lessons with the subjects and instructors that I wanted.
Unless you plan it ahead with your teacher so that they can claim your upcoming lessons, there's no guarantee who you'll study with in future lessons. The way that the lesson booking system works is that you choose the timed you'd like your lesson and its content. You submit this to Lingoda and their team of instructors are able to reserve your lesson. Technically your most recent instructor is given a certain amount of time to claim your next lesson, but if they aren't available or don't do this before it opens up to the other teachers, any other instructor can claim it. While I think it's good to work with different instructors (you hear different accents and voices and it improves your ear for the language), it can be frustrating when you have a teacher you like in particular. You also aren't able to choose who your teachers are if you are taking group lessons.
In response to this, Lingoda said: "One of the backend changes I mentioned will make it possible for students to select their favorite teachers and have these as a preferential choice when selecting new classes."
Additional languages! I'd really like to see additional languages offered as a part of Lingoda (I would love to study Italian with them).
In response to this, Lingoda said: "We are not planning on offering new languages for the time being. Seeing as we produce our own learning materials for all levels and have an extensive interview and vetting process for new teachers, we prefer to focus on our four core languages at the moment and get them right, rather than expand too quickly and have that translate into a loss in the quality of service for our users."
I could not get the group portal to work despite following the instructions (but I thankfully never had to use it). This was a bit frustrating, especially since you aren't given access to it until immediately before the lesson. I ended up having to send a message to my teacher via Skype to let her know that I could not get into the portal so that we could move our lesson over to Skype rather than use the virtual classroom.
In response to this, Lingoda said: "We did have some issues with Adobe Connect in the past few weeks, however these have been resolved. We must activate our students' Adobe Connect accounts manually for the time being, but this is now being done automatically when a new student signs up and creates a Lingoda account. We are currently testing a new platform which would eliminate this issue. We expect all courses (group + private) to be moved over to the new technology in the coming months."
More consistent feedback from instructors. After my first lesson my teacher spoke with my advisor who then got in touch with me to let me know what I could work on between lessons. I thought this was great, but I wish there was a better way to get feedback from lessons. I'd love to see a feature where instructors could leave you feedback that you could read after your lessons.
Conclusion
Compared to some of the online tutoring sites, Lingoda is a bit more expensive (but it technically isn't just another tutoring site, it's an online language school). That being said, I think the quality of the teachers, the structure of the lessons, and the option of obtaining CEFR certificates makes the price tag completely reasonable. The monthly fees range anywhere from $79-299 depending on whether you take group classes, private classes, or a mix of the two. All but two of the plans include the option to earn the CEFR certificates.
They currently offer a $0.99 sixty-minute trial lesson so that you can try out their program before committing. If you're ready to sign up, however, Lingoda was kind enough to offer you all a 15% discount using the voucher code COUPON. This offer expires on X/X/X so don't miss out if you're ready to start taking high quality language lessons with certified teachers.
Learn More About Lingoda
Save 15% on Lingoda language courses with the voucher code EURLING1.
– Visit their Website
– Join them on Facebook
– Follow them on Twitter
Shannon Kennedy
My name is Shannon Kennedy and I'm the language lover, traveler, and foodie behind Eurolinguiste. I'm also the Resident Polyglot at Drops and the Head Coach of the Fluent in 3 Months Challenge.