Clear the List | Monthly Language Learning Strategies Update | May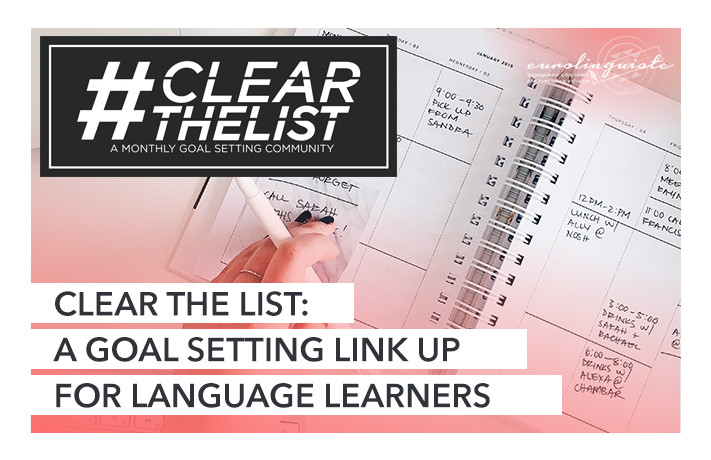 So much has changed since my last #clearthelist post! I've started a new language, have already completed my first Fi3M Challenge with it and am already on to the next language project! It's time for a quick catchup!
On to #clearthelist …
If you're new around these parts, #clearthelist is a linkup where we share our monthly goals, and by we, I mean myself, and Lindsay of Lindsay Does Languages.
We'd absolutely love for you to a part of our community. You can join us by adding a link to your own goal post below.
So let's get started, sharing our goals and motivating one another to #clearthelist!
Please feel free to tag your posts or photos with either #clearthelist on your favorite social media channels!
Last Month's Highlights on Instagram
Last Month's Goals
I didn't share these, so let's skip to this month!
This Month's Goals
Continue filling the gaps in my Mandarin vocabulary I've noticed since Little Linguist's arrival. // Little Linguist has actually started having his very own Mandarin Chinese lessons!
Maintain my vocabulary learning streak. // I want to keep up my vocabulary learning streak for as long as possible–something I was very good at doing but have fallen off on. Now that I've picked it back up, I've noticed that it does have a significant impact on what I actively use when speaking the languages.
Keep working through my YouTube Queue. // After my Youtube channel was terminated, I had to recreate my queue. I'm back up to several hundred videos I can work through to improve my languages.
Fluent in 3 Months Challenge // I'm almost a month into my Fluent in 3 Months Challenge for Russian and I'd like to keep working at it.
Keep reading Game of Thrones in Russian. // My tutor and I are reading through this together and discussing it each week.
Study Stranger Things in Hungarian. // Likewise, my Hungarian tutor and I are discussing Stranger Things in Hungarian each week.
Find a new Japanese tutor. // I'd like to keep up my speaking practice in Japanese, so I'm currently looking for a new tutor.
Maintain my weekly lessons in each language. // I'm currently taking weekly lessons for many of my languages, and I'd like to keep it up.
Resources I Used This Month
A quick recap of the materials I am using.
What I Am Using to Learn Chinese
What I'm Using to Brush Up/Improve My French:
What I am Using to Learn Russian:
What I am Using to Learn Hebrew:
What I am Using to Learn Korean:
What I am Using to Learn Spanish:
What I am Using to Learn Italian:
What I'm Using to Learn Japanese:
What I'm Using to Learn Croatian:
What I'm Using to Learn Hungarian:
Not Currently doing any study for: German, Hindi
What I'm Using for Little Linguist
Resources That Aren't Language Specific
The Biggest Lesson I Am Taking Away from This Month
Over the last year, a lot has happened–for example, I've released two albums, have traveled some, and as you all know and have experienced first-hand, have been working to adapt to the changes brought on by COVID.
When I first picked my language studies back up after being on-and-off with them for some time, I made a big mistake. I tried to pickup my routine exactly as I had left it off.
Needless to say, that didn't work out for me.
The reason I dropped off was two-fold. One, life. Two, my language learning routine had gotten to the point it was no longer sustainable. I was trying to do too much.
So after a couple of failed attempts at getting back into it, I decided to take it slow. I participated in a Fluent in 3 Months Challenge to give myself something clear to work towards– a 15-minute conversation. I then began doing lessons again for my key languages. Once I had established doing this as a routine, I added podcasts back in. And then vocabulary study.
I'm now at a point where I'm able to include other things like reading and tv shows. But I'm be careful not to take too much on.
TLDR? I learned to ease myself back into a habit after dropping off.
Don't forget that I would love to hear all about your goals for this month! Please join us by adding your post to the linkup below!
Clear The List Linkup Rules:
1. Share your goal post whether it includes your aspirations for the month or year. Submissions unrelated to the theme or links to your homepage will be deleted.
2. Link back to this post. You can use our button if you wish.
3. Follow the hosts: Lindsay from Lindsay Does Languages and Shannon from Eurolinguiste.
4. THIS IS THE MOST IMPORTANT RULE: Please visit the site of the person who linked up immediately before you and leave them an encouraging comment! By hosting this linkup, we're hoping to create a positive community where we can all share our goals. If you do not do this, you will be removed from the linkup.
5. Share on social media using #ClearTheList

Shannon Kennedy
My name is Shannon Kennedy and I'm the language lover, traveler, and foodie behind Eurolinguiste. I'm also the Resident Polyglot at Drops and the Head Coach of the Fluent in 3 Months Challenge.