Clear the List | Monthly Language Learning Strategies | January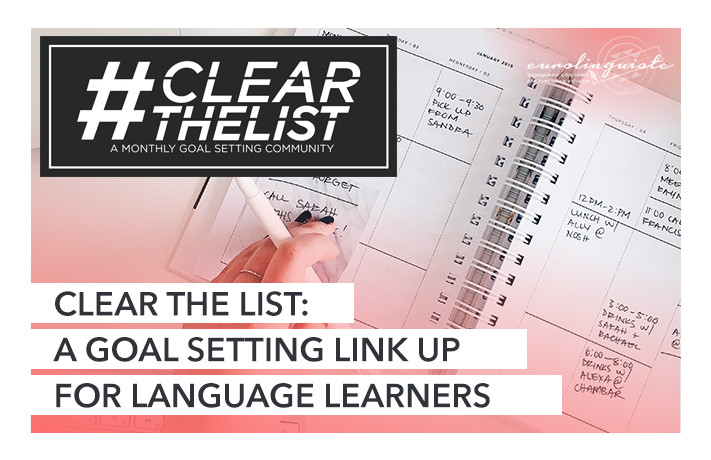 Welcome to 2016!
Yesterday I shared a few of my goals for the year, but today I would like to share my goals for this month that will help me get started in the right direction with my 2016 goals.
So without any further ado…
I, once again, would like to welcome to #clearthelist where we share our monthly goals! For those of you unfamiliar with #clearthelist, I cohost it with a lovely blogger: Lindsay of Lindsay Does Languages. You should definitely take a minute to head over and check out their sites if you haven't already!
We'd absolutely love for you to a part of our community. You can join us by adding a link to your own goal post below.
So let's get started, sharing our goals and motivating one another to #clearthelist!
Please feel free to tag your posts or photos with either #clearthelist on your favorite social media channels!
Last Month's Highlights on Instagram
Last Month's Blog Highlights
This past month, I had the opportunity to team up with a lovely group of language and travel bloggers to share the 12 Days of Christmas Around the World and I am so grateful to everyone who helped me make it happen!
12 Days of Christmas Around the World // Plus Hanukkah! In these posts you can learn about how the holidays are celebrated in twelve different countries plus you'll get a list of holiday vocabulary in the country's language and a recipe for a regional dish!
31 Holiday Gifts for Travelers and Language Learners // In this post I shared a few things that I hoped for this Christmas season plus gifts I've received in the past that I couldn't live without.
Hole in Wall Box // I'm giving away a subscription box along with Hole in Wall Box! You can watch my unboxing video and read my review of their San Diego box in this post.
My Maximize Your Month Language Learning Strategies & Goals
Last Month's Goals
Do the best that I can on my exam. I studied like crazy up until the exam date and did my best. The scores still aren't up yet 🙁 so I'm still waiting to see the results.
Start really diving into Russian. Sort of. I ended up being quite a bit busier in December than I anticipated, so while I did more Russian study than I had completed in the previous months, I really didn't get to give it the attention it deserves.
Plan out my language learning (and personal) goals for 2016. Done! You can read them here.
This Month's Goals
Work through at least one lesson in my New Russian Penguin Course book per week. // Ideally, I'd like to do more than one lesson per week, but January is another busy month for me, so I'll keep this goal at something I know I can accomplish.
Work through at least two Assimil Chinese lessons per week. // Again, this is fewer than I'd like to work through, but I'd rather surpass my goal than fail it.
Start learning Korean. // I'm not going to give away too much about this goal in this post because I have another very special post planned for this one!
Start collecting resources for my conlang challenge. // Have any of you ever considered learning a constructed language? I'd love to hear about your experience in the comments! This is going to be my first conlang, so I'm totally new to this.
Read my first book as a part of the reading challenge I'm hosting. // Again, this will have it's own post soon, so I won't share too much here.
My Language Learning Strategies and Updates
Up until this past month, I've been really focused on studying Chinese, specifically for my exam. Now that it's done, I feel like I can finally breathe! I thought that once my exam was over that I'd immediately throw myself into all the other resources I was forced to ignore while I focused on learning exam vocabulary and grammar, but the opposite actually happened. Aside from doing a bit of Memrise, my weekly lessons, and listening to podcasts about language learning strategies, I didn't do much language study AT ALL.
Normally, I'd scold myself for being such a lazy learner, but I think that I just really needed the break, so I'm not going to be too hard on myself. I did do quite a bit more reading in Mandarin (it's the new skill I want to focus on as it is currently my weakest skill in the language), so I'm going to say that totally counts. 🙂
Resources I Used This Month
A quick recap on the materials I am using.
What I Am Using to Learn Chinese
iTalki Lessons – Honestly, this is still one of the best investments I've made
Assimil (Lessons 51-100)
Antosch & Lin email newsletters
Watching television shows and movies (I'm kind of addicted to the show Skip Beat right now)
What I'm Using to Brush Up/Improve My French:
Immersion (we speak franglais at home)
Reading books written by French authors (well, this is what I should be doing)
Listening to French radio/podcasts
What I am Using to Learn Russian:
The Biggest Lesson I Am Taking Away from This Month
Breaks aren't always a bad thing. As long as you make sure that they don't become permanent. So now that my language break is over – here's to an awesome 2016!
Don't forget that I would love to hear all about your goals for this month! Please join us by adding your post to the linkup below! An InLinkz Link-up
Shannon Kennedy
My name is Shannon Kennedy and I'm the language lover, traveler, and foodie behind Eurolinguiste. I'm also the Resident Polyglot at Drops and the Head Coach of the Fluent in 3 Months Challenge.