Clear the List | A Monthly Goal Setting Linkup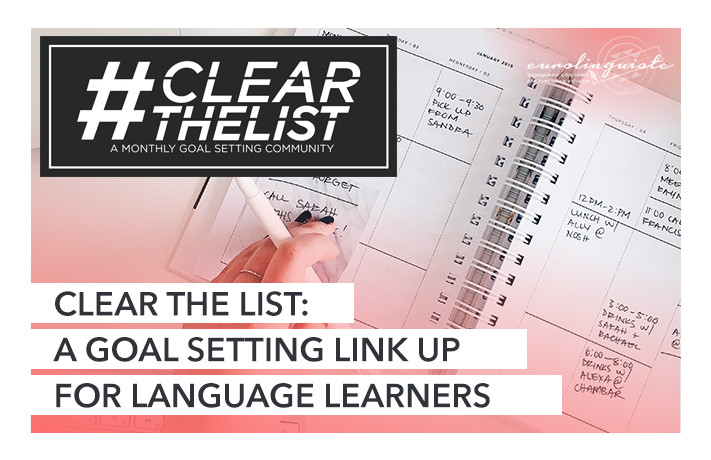 Hey all! Welcome to our #clearthelist linkup (formerly known as Maximize Your Month).
For those of you just joining us, #clearthelist is a goal-sharing link up that I co-host with a team of amazing travel and language bloggers. If you haven't met them already, they are currently Lindsay of Lindsay Does Languages.
We'd absolutely love for you to a part of our community. You can join us by adding a link to your own goal post below.
So let's get started, sharing our goals and motivating one another to #clearthelist!
Please feel free to tag your posts or photos with either #clearthelist on your favorite social media channels!
Last Month's Highlights on Instagram
Last Month's Blog Highlights
I had such an incredible birthday month with a last minute trip to Beijing, China. I arrived on the morning of my birthday and spent the next five days exploring the city, immersing myself in the Chinese language, and eating so, so much food. I'll share posts of my adventures soon, but until then, here are my most popular posts from the month of September:
My Maximize Your Month Language Learning Strategies & Goals
Last Month's Goals
Finish up HSK 3 Memrise Deck. I am close enough that I'll call it done. Plus, I've also nearly finished HSK for so I'm quite a bit ahead there. I'm now working through Mandarin word frequency lists to further round out my vocabulary and doing lots and lots of watering.
Do at least one real language update video. I did a video where I sang in French, but I'm not sure if I'd count it as a language update video.
Finish reviewing my previous Memrise Decks so I can add at least one new one. Sort of… The sudden trip to China with almost no access to internet kind of set me back a week.
Work through some of the new resources I'm excited about. I started to do this! I have a huge stack of new books that I've been working my way through. Finishing every book I own is on my Thirty by 30 goal list and I made pretty good headway this month with all the time I spent on airplanes.
This Month's Goals
Start the HSK 4 tests. I still haven't really arrived at the point I would have liked with HSK 3, but I need to keep moving forward. Last month, I went back and did some of the lower level tests I didn't pass the first (or second) time around and on one I scored 100%, so I know my work is paying off even if it doesn't really look like it when I look at it on a day-to-day basis. I'll get there!
Finish one new Memrise Deck and keep up to date on the old ones. I'm undecided if I'll start the HSK 5 deck or continue to work through frequency word decks. Maybe I'll do both, but I'm only going to set a goal of finishing one.
Do a real language update video. Because really still haven't done this.
Keep working through my new resources. Because I really want to share them with you!
My Language Learning Strategies and Updates
Here are some of the changes I've made to my language learning methods from previous months:
I went to China to get the full language immersion experience. One of the questions I'm often asked when people find out I'm studying Chinese is, "Have you ever been to China?" I can now finally say "Yes!"
I had such a great time in China. The people in Beijing were really kind and it was fun getting to speak with them. Watching their faces light up when they found out I could speak Chinese was a wonderful experience and I had the chance to meet some incredible people.
You really get to experience places so much more when you speak the local language, and I had the chance to chat with people I wouldn't have been able to otherwise by learning Mandarin. And that's really kind of the point, isn't it?
Language is all about communicating with others and on this trip, I really had the chance to get to do this.
One of my friends came down from Northern China to meet me and help me get around. It was nice having her there and she really encouraged me to initiate conversations that I would have otherwise shied away from. She also helped me navigate my way around food menus safely (I have food allergies and even though I learned the characters for the things I'm allergic to, you can never be too sure).
Resources I Used This Month
A quick recap on the materials I am using.
What I'm Using to Learn Mandarin:
iTalki Lessons – Honestly, this is still one of the best investments I've made.
Assimil (Lessons 51-100)
Antosch & Lin email newsletters
Watching television shows and movies Cultural and Language Immersion
What I'm Using to Brush Up/Improve My French:
Immersion (we speak franglais at home)
Reading books written by French authors
Listening to French radio/podcasts
What I am Using to Learn Russian:
The Biggest Lesson I Am Taking Away from This Month
Language immersion abroad isn't that different from the language immersion environment you can create at home if you work hard enough.
Plus, it's a whole lot cheaper.
I traveled more than 20 hours on a plane to get to China to find out that the "immersion" environment was only slightly more intense than what I was already doing at home. The only real advantage true language immersion had was that it was more hours per day than what I can do at home before English or French find their way in.
In China, people still attempted to speak to me in English unless I insisted on using Chinese (I was able to get the receptionist to check me into my hotel only in Chinese, but the receptionist who checked me out of the hotel kept on with English).
More people also wanted to speak English with me (rather than Chinese) in China because they likely don't have the opportunity to practice that often. In the US, those who are native Chinese speakers here use English every day, so it's a nice break for them to use Chinese with me. In my experience, Chinese speakers abroad have been less likely to insist on speaking in English with me than those I met in China.
At the same time, however, there were still quite a few people who did not speak English, and so it really forced me to find ways to communicate. In an environment (like the US), where I know my friends also speak English, it's easy to revert back to it when I'm not sure how to say something or when I'm trying to maintain the flow of the conversation. In China, that often wasn't possible. I just had to keep talking until the other person understood me.
And a bonus takeaway!
When you're working on listening comprehension, really make a point of listening to as many different speakers, of both genders, as possible. They really aren't kidding when they say the accents in China vary immensely (and the same is true of other languages – not everyone speaks the standard dialect).
There were some people I understood without any problem, but others I didn't understand at all (sorry to the kind woman who was stuck under the alcove with me in the rain).
By teaching yourself to listen to and understand different voices, you'll better prepare yourself for real life environments. Not everyone speaks as clearly and articulately as the recordings that accompany your course book! Prepare yourself.
Shannon Kennedy
My name is Shannon Kennedy and I'm the language lover, traveler, and foodie behind Eurolinguiste. I'm also the Resident Polyglot at Drops and the Head Coach of the Fluent in 3 Months Challenge.