A Review of LCI Brands & Lewis N. Clark Travel Products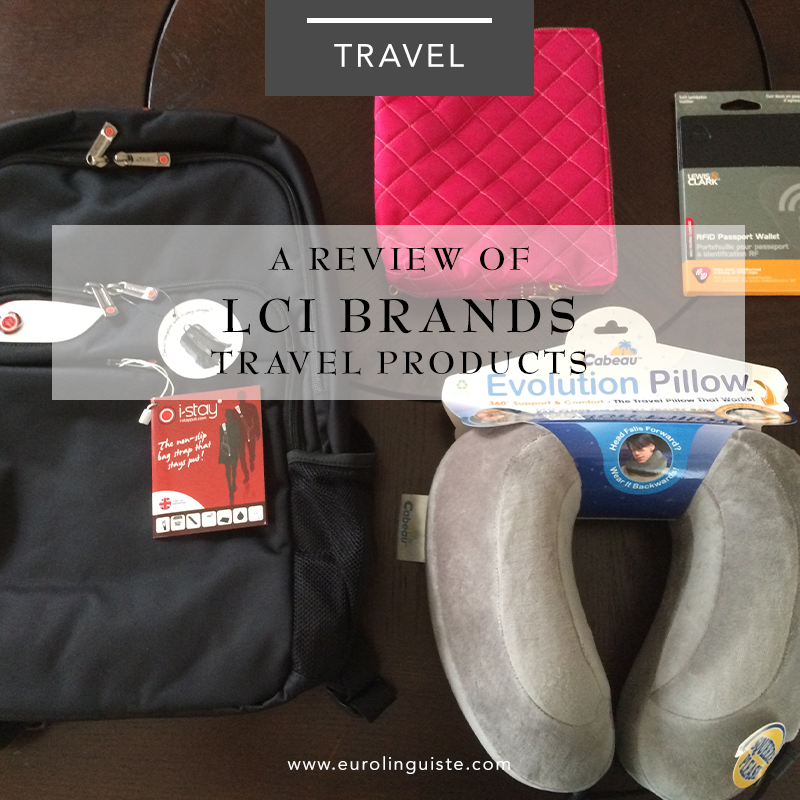 Even though I spend a lot of time traveling, I have never really given much thought to the bags or travel gear that I am using. In all honesty, I also tend to use things until completely worn before even thinking about something new. As an example, the backpack that I used in university still has some life left in it, so I hadn't really considered replacing it (plus it has lots of pockets and organizers and I really like pockets).
I've never really been a fan of duffel bags or rolling carry ons, preferring to carry a backpack that tucks nicely underneath the seat in front of me so that I can grab any number of things I might need from it during flights without disturbing the people sitting next to me.
The i-Stay Laptop Backpack
When LCI Brands contacted me and asked if I would be willing to give their products a go, I took a quick look at their catalog and immediately fell in love with their i-Stay laptop backpack. Not only did it have several large pockets that would allow me to organize my carry on items, but it also has a specially protected area for my laptop and several smaller pockets to organize different items like headphones, pens, small items, and cards.
The design of the bag is really functional and clean. I love that there are four main pockets with different sized lined-pockets within each to keep everything easily accessible and organized. The laptop compartment is 15.6" so my 13" Macbook fit into it nicely with room to spare.
One of the biggest issues I have carrying both a backpack and my saxophone with me is that the straps often slip while I'm walking or trying to do other things. It can end up being anywhere between a mild annoyance to downright painful (when skin gets pinched or it falls hard onto my forearm as I try to catch it). The last thing I need is to either drop the bag with my sax or with my laptop and the non-slip bag straps on this backpack not only kept my bag on my shoulders, but it also gripped the strap of my sax case so that it no longer slipped either. It made running around the airport, back and forth to soundcheck and the hotel so much easier! I'm definitely going to consider getting i-Stay straps for my sax cases.
My only complaints about the bag were that 1) the backpack is a little bit smaller than what I'm used to so I felt a bit limited as far as space was concerned. On the bright side, however, it forced me to be a bit more selective with what i brought along with me on the trip (I tend to overpack my carry on); and 2) the straps were a bit uncomfortable when I was bare-shouldered.
Overall, I really enjoyed using the bag on my last trip and I'll definitely bring it along with me on future trips.
Description: 17in x 12in x 5in; includes gunmetal fittings; water-resistant nylon; ergonomically designed with padding to protect your back; 39.0 oz
Belle Hop Cosmetic Organizer
Toiletry bags are probably the thing that I burn through the most. They go with me to shows, on trips, to photoshoots, and I'm constantly dealing with cleaning up spilled makeup and leaky bottles.
Most the bags I've used in the past were large, single pocket bags that I had to dig through to find whatever I needed, but the Belle Hop Cosmetic Organizer is as it says, much more organized than what I'm used to.
The bag has two separate compartments – one that's plastic lined and one that's mesh – so that I can keep things that might like separate from things like my makeup. And the best part is that the two compartments are connected by a zipper which makes it easy for me to just grab the half that contains my makeup so that I can do touchups backstage and leave the rest at the hotel! Or, if I'm heading out to the beach, I can grab the plastic-coated side and throw in some chapstick, sunscreen and/or tanning lotion to bring along with me.
Of everything they sent me, the toiletry bag and the backpack were probably tied for my favorite item. I really loved that it could be split into two separate bags or connected via magnets and zipper as one. It stood up nicely on the counter and I was able to find everything I needed without digging through the bag. It was the perfect size and fit all the toiletries I brought along for a weekend trip.
Description: 7.5in x 9in x 2.5in; magnetic closures to connect the two halves; 4.0 oz
Lewis N. Clark RFID Passport Wallet
My dad works at a company that specializes in data capture technology, so I've learned quite a bit about RFID (radio frequency identification) and its various capabilities. But I've also heard about how thieves have generated tools to make this technology work to their advantage.
US Passports created after 2006 and many credit cards are now equipped with RFID chips and they can be vulnerable to thieves equipped with RFID scanners. So when travelling, I like to abide by the expression, "better safe than sorry."
Lewis N. Clark has a very classy and classic RFID signal-blocking passport holder to protect my passport and credit cards from modern-day, digital pickpocketing. It's compact, professional looking and has just enough pockets to store just what I need to bring along.
The only thing I felt could have been different with the passport folder would be to reverse the sides the pockets are on. I like to store my passport with just the back cover slid into the sleeve so that the pages and the id section are easily accessible. To achieve this, I ended up having to store my passport in the wallet upside down (which really isn't a big deal, just a matter of personal preference).
Description: Closed the wallet is 5.5in x 4in; lambskin leather; 3 credit or business card slots; ID window with thumb notch; 2.0 oz
Cabeau Travel Pillow
Believe it or not, as much as I travel, I have not up until this point ever owned a travel pillow. I have a really hard time sleeping on planes, and now that I travel with M more often or not, I usually end up in the middle seat which is even more difficult to sleep in.
I was pretty certain that nothing would help me sleep on planes, not even a pillow, so I never considered getting one. Even on our recent trip to France (which was a 12+ hour flight), I never slept more than 20 minutes so I thought there would be no way I'd sleep on our 3 hour flight to Texas.
Wrong.
I put the pillow around my neck, tilted my head slightly and slept soundly for two of the three hours. Even M stole the pillow for the flight back because he preferred it to his own.
My only complaint was that the travel bag didn't hold up for even one trip. We probably removed and repacked the pillow a total of three times, but the travel bag has already torn to the point we can't really use it. It was a tight fit (in an effort to make compact the pillow for carry), and either the material or the seams couldn't survive it.
Either way, I am definitely bringing the pillow along with me on future trips.
Description: memory foam pillow; raised side supports; sliding toggles and washable cover; media pouch; travel bag; 5.5 in x 10.5in x 12in; 11.5 oz
Overall, I loved everything that LCI Brands sent me and I will definitely continue to use everything. I keep my passport stored in my new wallet and all my other accessories are ready for my future trips.
Find LCI Brands on Social Media: Facebook | Twitter | Youtube | Website
Find Lewis N. Clark on Social Media: Pinterest
I was given the above products by LCI Brands in exchange for a review. All thoughts and opinions are my own. Please note that I do not recommend products or services that I do not believe would be a good fit for my readers.
What about you? What travel products do you love? What do you always bring along with you on trips?
Shannon Kennedy
My name is Shannon Kennedy and I'm the language lover, traveler, and foodie behind Eurolinguiste. I'm also the Resident Polyglot at Drops and the Head Coach of the Fluent in 3 Months Challenge.